For this September 2019 , Eat the World challenge , We are cooking from Egypt. I had chosen Loquamat for this challenge. This dish is common in many middle eastern countries called in different names.
Luqmet el qadi (
لقمة القاضي
)
are small , round donuts that are crunchy on the outside and soft and syrupy on the inside . They are often served with dusted cinnamon and powdered sugar . The name literally translates to "The Judge's Bite".
Lokma ( Turkish ), also known as Luqma ( Arabic:
لقمة),
Loukoumades ( Greek :
λουκουμάδες
),
and other names in other languages are pastries made of leavened and deep fried dough , soaked in syrup or honey. Sometimes coated with cinnamon or other ingredients. The dish was described as early as the 13 th century by al- Baghdadi as luqmat al Qadi (
لقمة القاضي ) ,
Judge's Morsels .
The yeasted dough is deep fried in oil and soaked in sugar syrup .
Requirements :
2 cup all purpose flour
2 tbs corn flour
1 tsp sugar
1/2 tsp cardamom powder
1 1/4 cup lukewarm water
1 tsp instant dry yeast
For Sugar syrup :
2 cup sugar
Quater cup water
Half tsp Cardamom powder
1 tsp rose water
Method :
In a bowl , add the flour , corn flour ,sugar , yeast , cardamom powder and mix well.
Add in the luke warm water and mix well without lumps. The batter must be smooth and creamy.
Let the batter rest for an hour for the yeast to make it airy.
In the mean time , combine sugar and water . Bring to boil and make sugar syrup of one string consistency. Add in the cardamom powder and rose water to the syrup and mix well. Add saffron strands if adding to the syrup.
Heat oil in a pan , reduce the flame to medium.
Pour a spoonful / a small pebble size batter with hand into the hot oil.
Deep fry till the dumplings become golden brown.
Arrange the fried dumplings on a flat plate and pour the sugar syrup with a laddle on top of all the dumplings.
Serve the Loquamat at room temperature.
Note :
The syrup must be at one string consistency , which gives them a golden glow......
Adding corn flour gives a crunchy texture on outside while the inside will be soft.
Mashed potato can be used instead of corn flour.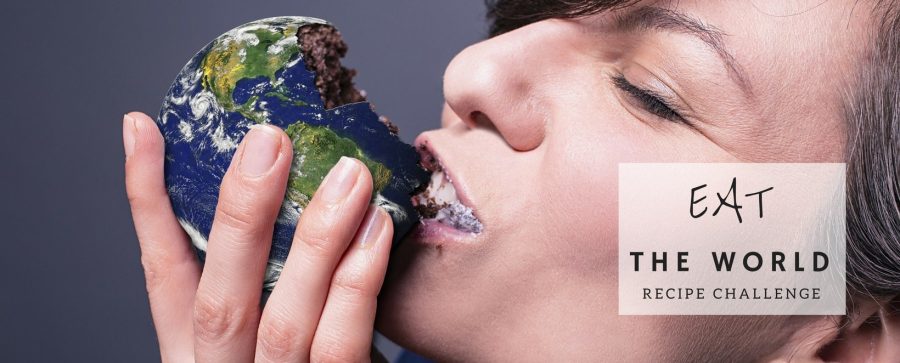 Check out all the wonderful Egyptian dishes prepared by fellow Eat the World members and share with #eattheworld. Click here to find out how to join and have fun exploring a country a month in the kitchen with us!
The Gingered Whisk:

Basbousa Cake Recipe
Sara's Tasty Buds: Luqmet el qadi